My Secret Pal mentionned that I hadn't updated my blog in a long time. I didn't realize it had been that long (almost a month!) I shall never let that happen again!
Don't worry though, I'm still knitting happily. Kyoto is going along ok, I only have the sleeves and the collar left. It's going to be way too big though. I'll give it away to my sister I think. I can't wait until I'm a good knitter. *sigh*
I'm also knitting a Clapotis. Oh my God it's so much fun! I'm not using the best yarn for it (Patons Decor), but it's still nice. I'm pretty sure I'll make another one sometime, with better yarn.
***
The lovely
Jo
asked her readers to ask her three questions, any questions, that she answered in her next entries. I'm a copycat so I'll do the same thing.
ASK ME THREE QUESTIONS. ANYTHING!
***
Now on to the yarn porn. I went to
Mouliné
today to get yarn for my Secret Pal. That place is so great, I could easily spend my whole paycheck in there! But I didn't! I really admire my discipline. I only got yarn for the gift. Unfortunately, I can't post it here in case my Pal stumbles on my blog. But it's yummy, I can tell you that.
So no new yarn for me. But I took a pic of my knitting corner: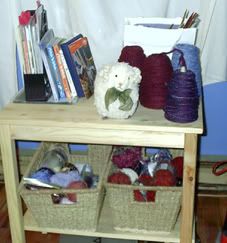 And just so you can see better, I emptied the baskets on my bed: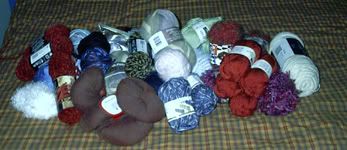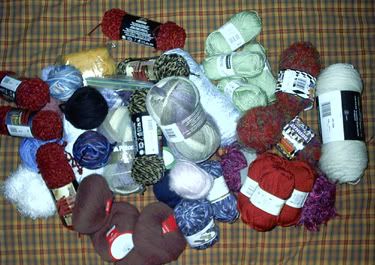 It's not that big, but it's all MINE! And I don't discriminate, I got everything in there, from cheap acrylic to soft alpaca. I think I'll leave it on the bed and sleep in it tonight!