I just realized that I haven't blogged in half a month. Eeep! Thing is, I kept on meaning to take pictures but never really got around to do it until now, so...
But here they are! First, my last finished object of 2005, a hat for my boyfriend. I made it with Noro Kureyon (colour 51) and
this pattern
after seeing a post on
atforumz
(thanks Maureen!).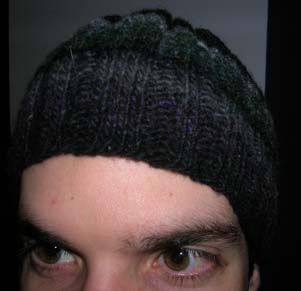 And I've made two things in 2006. First is the Basic cables hat from Stitch N' Bitch Nation. It was my first time making cables. I was actually hoping to use the yarn to make Veronik Avery's short row hat from the latest Interweave Knits, but it didn't work very well with the pattern. I also made a very basic garter stitch scarf with chunky yarn to go with the hat.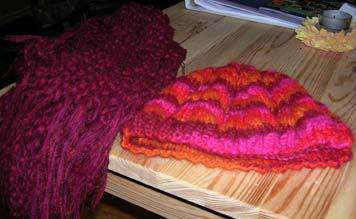 As to what I'm working now, well...
Other than the two projects (socks + a bag) that I already had on the needles, I casted on for the Big Bad Baby Blanket from Stitch N' Bitch. It's for a pregnant friend, and since the baby is due in June, I have plenty of time. I'm using some Patons Decor yarn that I had in the stash. I'm not too crazy about the colour (I loved it in the skein, but I found out it has too much brown), but I think it'll look nice enough as a blanket. We don't know if the baby's going to be a boy or a girl and I think the colours are neutral enough.
I also decided on a sweater. Hopefully, it'll be a success and I will end up actually wearing it. I chose Mariah, from
Knitty
. I love the pattern but it's quite a difficult one for me. I'm only on the sleeves (I'm making both at the same time) and I can already tell it's going to take me forever to finish. Oh well. I'm using Knit Picks' Wool of the Andes for the first time. In Cranberry. It's lovely.