I came back home last Thursday after a three weeks business trip/vacation to Paris and London. It was great. Unfortunately, though, I worked so much in the first two weeks that when my week of vacation started, I was exhausted! But I still managed to have a good time.
I only visited one LYS during my trip, La Droguerie on Rue du jour in Paris. It was a lovely shop and I was especially interested in their bamboo yarn but I ended up not buying anything. I did, however, buy this beautiful scarf in another shop.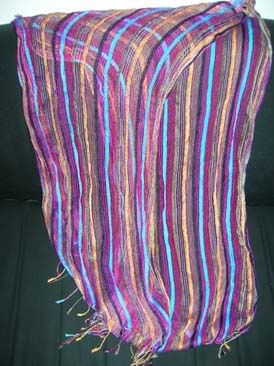 It is not knitted but it is handmade and beautiful. And it kept my neck warm which is a good thing since apparently, Paris and London never got the memo that it's almost summer now. It was so damn cold the whole time I was there!
While I didn't buy any yarn during my trip, I did spend a bit of time knitting. I began a pair of striped socks:
I'm loving the colour!
I also started the Kiri shawl with some
AmiAmi
yarn. I can already tell it's going to be a beautiful thing, even though it currently looks like crap.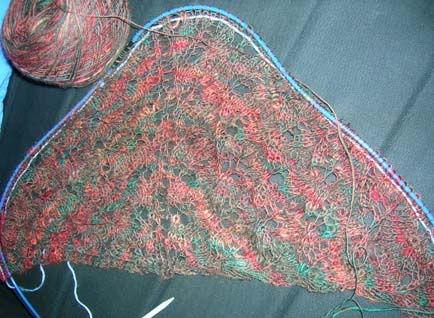 I can't wait till it's finished. I'm working on it like a maniac even though I really should get back to Mariah. I told myself I wouldn't start any new sweater until I'm done with this one and of course there are one million sweaters I want to start right now.
Today I went to the bookstore and was happy to see that they hadn't sold all their copies of the summer issue of IK (I got the last one!). I think I want to make the Looking glass top, except without the cable in the back. I'm also totally in love with the Icarus shawl (actually, I think I'm just totally in love with lace shawl knitting).
Ok that's all for today. I now have three weeks worth of knitting blogs to go read :p