Mariah is pretty much done and only needs a zipper. I'm not sure when I'll have time to go and buy one (and install it) so here's an almost-FO pic: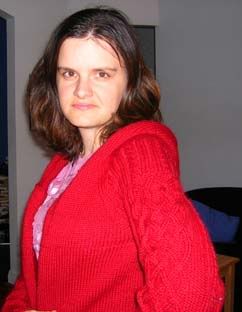 No need to tell me how bad the picture is, I know! I'm alone in the house and this is the best I could get before I got the "batteries exhausted" warning. The camera had just enough energy left for me to upload the picture. I look like shit, c'est la vie. I'll have my boyfriend take a better picture once the zipper is in.
The Kiri shawl is the other project I'd like to finish this month before I start my fall projects. I'm on the seventh repeat right now and I'll probably do 12 of them.
I got the new IK today. I also saw the new Vogue Knitting but I'll probably buy it later. I was pleasantly surprised to see how many copies there were in the bookstore (especially of VK). I remember when I first started to buy knitting mags, there would be 2-3 copies in the bookstores. More copies = more knitters. Yay!
So, in the new Interweave Knits, my favourite patterns would be Coral Crossing and the Weekend pullover. I don't think I'll make anything from that issue anytime soon though. Not that the designs aren't lovely, I just have many other projects in mind.
Oh and I almost forgot to mention that I started a pair of
Jaywalkers
. I LOVE THAT PATTERN! I'm using Regia sock yarn in one of the Canadian colours. They will probably be the most beautiful socks I've ever made (and I know I say that about every pair I make but I really mean it).