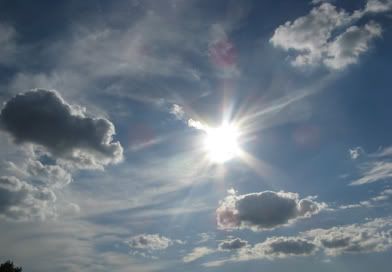 It's been a LONG LONG while since I last posted. A little more than a month actually! Crazy! I've been wanting to post but just never got around to it as I couldn't find anything I wanted to write about. It's silly because things have been happening.
I mean we just moved into our brand new home! And let me tell you, I love everything about it. It's huge compared to our last place. And I'm loving the new neighborhood. I don't leave as close to the metro as I used to (it used to be a 2 min. walk) but it still takes me pretty much the same amount of time to get to work. So all is good and we don't regret our choice.
The *only* bad thing about our home is that we can't get a signal for our cell phone whenever we're inside! Unless we are close to the window, in the living room. And even then, I sometime lose the signal. It sucks because we haven't had a home phone in years, we only just use our cell phones. We'll definitely have to get a home line now.
We also had two weeks of vacation following the move. We spent most of that time in our new place, settling in. It was fun and I would have taken many more weeks off. But I did have to go back to work two weeks ago. You gotta do what you gotta do.
Yesterday I spent the whole day at parc Jean-Drapeau for the Osheaga festival.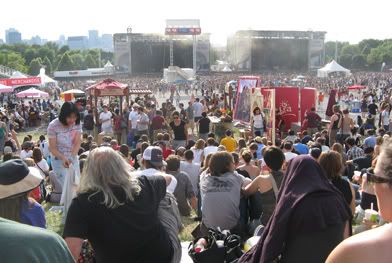 It was lots of fun. We saw K'Naan, Stars, The National, Pavement and my beloved Arcade Fire. It was great. Unfortunately, I started having a killer headache early in the evening. By the time Arcade Fire came on, I thought my head was going to explode. Still, I endured for about an hour but then we decided to leave during the last song of the main set. I don't regret it though as we were able to catch the metro right away. My friend who stayed until the end said it was crazy to wait for the metro after the show.
Chris had a media pass for the festival so he went again today. I wish I could have gone but I'm still not feeling too well plus it's a bit on the expensive side. Today had Metric and Weezer. I would have loved to see them.
Oh and I know this is a knitting blog, but I think I must have knit something like three rows (three LONG rows) of my shawl in the past month. I'm really itching to start new project, but I know if I stop knitting the shawl, I'll never finish it. I really need to try and knit at least a little bit every night so I can hopefully finish it in the next month or so.
Did you guys see the new
Twist Collective
? It's so nice!
I absolutely adore
Red Oak
but I don't see myself ever making it. I can't wait to see some FOs of it though. I also like
Peregrine
, but I'm afraid it'd give me too much cleavage (I'm heavy on the boobie front, if you know what I mean).
I queued
Lallans
,
Gwendolyn
(I'd make it without the green border though),
Anthera
(I especially like the cowl) and
Twinflower
.
Ok I'll try to write again before the end of the month ;)