Ok so you all know I have a Knit Picks addiction, right? I know some people don't like their yarn, but I love them and I love their prices. And their needles too.
I'm usually pretty reasonnable though and I order from them maybe twice a year. You may remember I ordered some of their Palette yarn recently, just before the price increased. Well, I did it again and made another order a couple of weeks ago.
See, I got this code in my emails for 10 $ off a set of Zephyr interchangeables. I already have the nickel plated set, but I wanted to buy a second set and I like the Zephyr tips sooo... I just couldn't say no to 10 $ off. And of course, if I'm going to order, I'm going to add some yarn.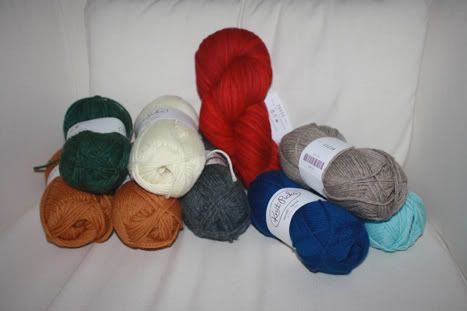 I got some Wool of the Andes in Pumpkin and Forrest Heather for a Pumpkin Hat. Some Wool of the Andes in Cloud and Cobblestone Heather to make Christmas Gnomes (I'll also use some WOTA in Cranberry that I already have). I bought a few skeins of Stroll Sport (in Mink Heather, Wave Heather and Winter Night) for hats. And a skein of Stroll Tonal in Gypsy, just because.
Can I say just how much I love (LOVE) the Stroll Tonal? I have three colours so far, but Gypsy is definitely my favourite. It's beautiful!