I finished Hubert's sock: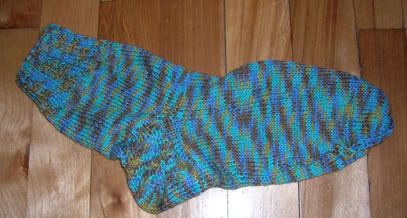 I'm working on #2. If I keep up at this rate, I won't be giving away many knitted gifts next Christmas.
In other news, today was knitting meetup day, which happened at the Second Cup on Monkland. My tiredness and depressiveness makes it difficult for me to attend any sort of gathering or to do anything at all, really, but the last time that happened to me I isolated myself for months and I'm trying really hard not to let that happen again. But then I realize just how boring of a person I must seem. So I'm not sure what's best, really. Do I keep on going to keep me sane or do I not go so I don't subject other people to my presence, because I do realize that I'm no fun to be around these days?
I can be such a drama queen in online journals. I think I just need to take a little break. Especially since I just admitted on my blog, which some of the Montreal knitters read, that I'm really a sociophobic fruitcake. What a winner.
All that being said, seeing Veronik's blue shawl (the one that she gave to Margaret) at the meeting, as well as Molly Anne and Anny's shawls-in-progress made me want to make one too. So I'll just add that to my list of things to make sometime. Later.