Hola!
I'll start with non-knitting content: I'm going to Mexico! But those of you who are going to see me at the next knitting meetup (probably on Sunday) shouldn't expect to see a tan, as I'll only be there a couple of days. I'm leaving Wednesday at 6am (yikes!) and I'll be back on Friday. And I'm not going to spend the days on the beach, I'm going there to cover the MTV Video Music Awards Latin America. Woohoo! It should be a lot of fun. Yes, I will take pictures.
Speaking of pictures, here's one that I took at the knitting meetup last Sunday (one week ago):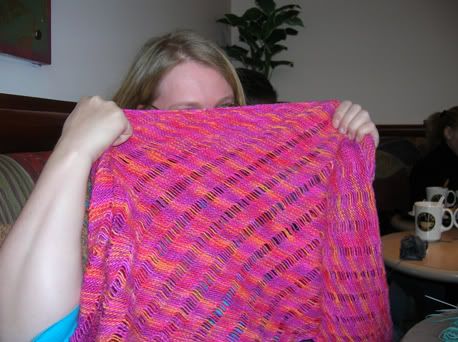 You can see the lovely
Mona
holding the original
Clapotis
. Of course, I didn't only meet the creation, I also met
its creator
. But I didn't talk to her much because... well I just don't talk much in general.
I'm making good progress on my sister's socks. I'm not sure I'll have the second one finished before I leave on Wednesday, but I may finish it before the meetup on Sunday (which means I'll have to find a new project to bring... probably socks cause I'm predictable like that).
I should really go to bed because it's late, but before I do, I need to ask for some suggestions. I have 600m of
Alpaca Peru (Luxury Collection)
.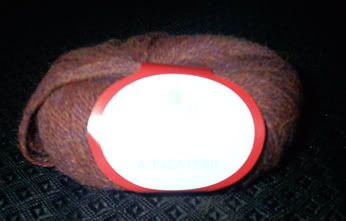 I'd like to make a shawl or wrap, something like that. I think. I could probably get a few more skeins of it if I need it. Any idea for a pattern? I wouldn't mind paying for one, as long as I don't have to buy a whole book just for one pattern (can't afford it right now).
Speaking of books, I went to the bookstore with the boyfriend yesterday and I casually showed him a couple of knitting books that I liked. Hey, my birthday AND Christmas are coming up, the poor boy needs some ideas ;)
Ps/Thanks to those who helped me solve my spam problem :)