It's getting quite cold in Montreal so it was the perfect timing to finish a new hat!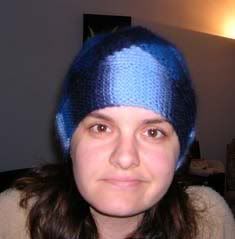 (I swear I'm not stoned on that picture. My eyes have been itchy since yesterday).
Pattern is Véronik Avery's Short row hat (
Pattern in pdf format)
.
I used the recommended yarn,
Faith, by Ami-Ami
, colour A-48. The yarn is very soft and the hat is warm. Let's just hope I won't lose this one!
Last Friday was Stitch N' Bitch night at a new yarn store,
Effiloché
. Some people from the Montreal Knits group were there, as well as a bunch of other people I had never met before. The evening was nice and I got to touch a lot of beautiful yarn. I also got to see the original Clapotis as well as the original
Union Square Market Pullover
(Kate Gilbert, the designer, teaches knitting classes at Effiloché).
I was very good and I only bought two things. I got a skein of Austermann Step sock yarn. The yarn has Aloe Vera and Jojoba oil in it, which makes it so incredibly soft. I can't stop fondling it since I got it back home. The colour I got is the one used for the fingerless mitts
on this page
(I'm not affialiated with this site at all, I just found it when I googled the yarn's name).
I also bought the fall 2006 issue of Knitscene (finally, there's a place in Montreal where we can buy this magazine!). I got it only because of
this pattern
. It's so beautiful. It's so me. I must knit it.
I will leave you guys with the
preview for the next Interweave Knits magazine
. I like a lot of the patterns but my favourite one is the cardigan for Arwen, though I would personally make it a bit longer.