On my last post,
Karine
commented:
"I'll bring my socks tomorrow at the knit thing. If you attend too, I'll be more then happy to help you out. Trust me, it's a lot easier then you think. One caveat: three chicks I've taught how to knit have gotten pregnant. I know you can knit already but I don't know the consequences of just teaching a technique..."
Hmm. Maybe I wouldn't mind that... ;) Seriously, my boyfriend and I are just not there yet but I'm really looking forward to having a baby. Sorry I wasn't at the knitting thing last week but I'll try to go this week.
Another comment (this one was anonymous):
"I, too am making these socks and am having the darndest time with them! I keep losing stitches -- is this happening to you?"
So far it hasn't. Maybe because I'm using bamboo needles? It really helps with slippery yarn.
I'm really into a sock mood these days. I just don't feel like knitting anything else. I usually only have one pair at a time (I have other projects too, just one that is socks), but yesterday I decided to cast on for a pair using the Opal yarn I got from the girls at
Ariadne
because my sock in progress was (and still is) at my boyfriend's. I also ordered some new sock yarn from
Fearless Fibers
(click at your own risk, everything on that site looks fabulous). I'll tell you more about the yarn when it gets here.
I also finished something that is not a sock: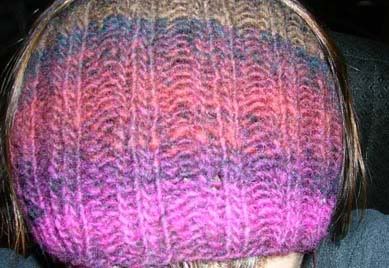 Pattern is Calorimetry, from
Knitty
and I used Noro, as you can probably guess. I figure it would be good to have something to protect my ears from the cold when my hair is up... and of course, after I finished knitting this, I decided to get my hair cut too short to wear it up! ;)
My order from Knitpicks has yet to arrive and I'm beginning to worry. I usually get my orders from them pretty quickly. It supposedly has been shipped on January 29th. Shouldn't it be here by now?