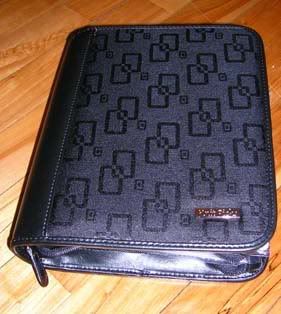 I finally received my Options needles last week. I'm very happy. I haven't had a chance to try them yet (I have too many projects on the needles already) but I just know I'll love them. Thanks to the wonderful
Karine
, I'm now in the process of knitting two socks on two circulars and I'm using Knitpicks needles to do so. I LOVE them. Seriously, it's almost indecent to love needles so much. They are the best I've ever used.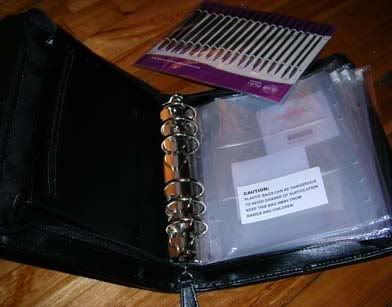 I love the little case.
Re: two socks on two circs. It was very confusing at first and I'll admit I didn't have much fun knitting the first 3-4 rows. But now that I have about 3 inches done, I'm starting to like it. I don't think I'll give up the DPNs for good, but I'll definitely keep on using that method, especially for plain vanilla socks. I don't have pics of the socks in progress, unfortunately, since I left them at my boyfriend's.
I also got new yarn.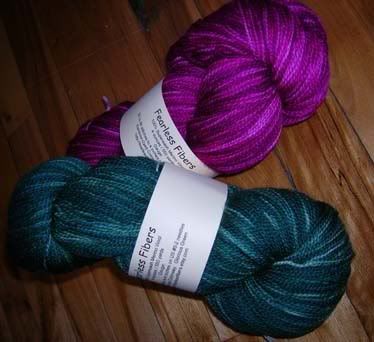 Iminloveiminloveiminlove! It's superwash (and supersoft) merino sock yarn from
Fearless Fibers
(I'm hoping the link will work as apparently the one in my last post doesn't. If you can't access the store, just google Fearless Fibers and it should get you there). I gotta say that the yarn is soft, the colours are fantastic and Deb (who runs the store) is a very nice person. It took a week for my yarn to get here (she's in the US, I'm in Canada). I'm very satisfied with this purchase. Oh and each skein 550 yards! My Fleece Artist skein is around 355 yards and I usually have a lot of leftovers (I have small feet). I think I may be able to get two pairs with each skein (I'll just knit the second pair toe up).
I have no FOs to show you but I do have two WIPs. First, the Ripple Weave socks are coming along nicely.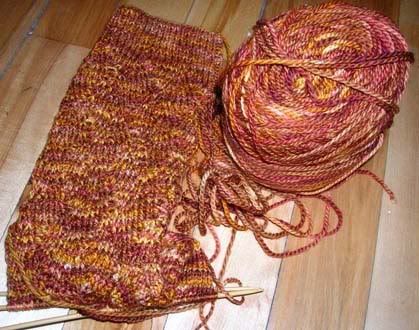 I'm loving the colours even more every time I pick the project up.
I also finally restarted working on the blue cardigan. I realized I made a mistake with the shaping of the two fronts so I'm reknitting them (the good news is that they're a quick knit and the cable keeps me from being bored).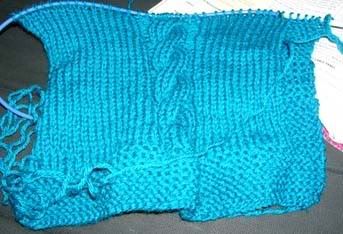 The colours are totally wrong on this picture but I couldn't get a better pic so it'll have to do. I have 100000000 sweater patterns that I want to start so I better finish this soon.