I'm totally stealing this idea to do a weekly WIP report from
Dim Sum Knitting
. It should be a good way to make me update regularly. I tend to think that if I don't have FO pics to show, I don't have anything to blog about. But unfortunately, I don't finish things that often, so...
WIP report time!
I'm working on many projects, but these two are taking most of my free time. First, I don't know if you remember these knee socks: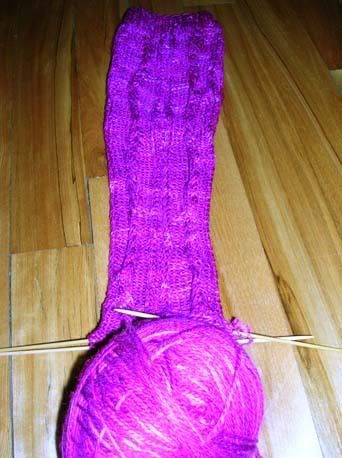 Well they are no more. I frogged them when I realized my legs would never look good in them. If I ever lose weight, I'll make knee socks to reward myself. In the meantime, regular socks will do. Therefore, my Fearless Fiber sock yarn is being turned into: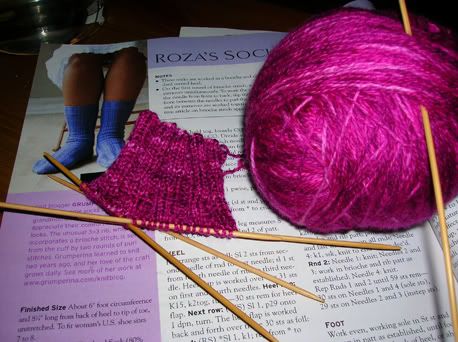 Roza's socks, from the Spring 2007 issue of Interweave Knits. I was just flipping through my mags, trying to find the perfect pattern for the yarn and when I saw them, I just had to cast on. I'm only at the cuff, as you can see, but I plan on starting the brioche stitch part tonight.
I'm also working on
Isabella
. Now this is a boring project to show off because I'm making it in black, so all you see on the picture is a black blob, but you can kind of spot the beginning of the lace part (follow the green arrow!):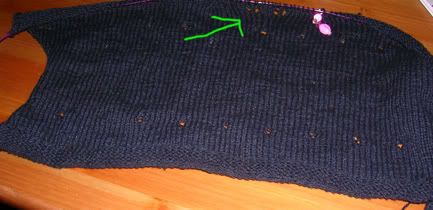 This is a very simple project, even though I'm (finally!) at the more "complicated" part. But it's easy lace, really. I'm working with Katia Mississippi 3, which is a cotton/acrylic blend that I had in the stash.
So that's all for the WIP report.
Last Friday, my friend Dominique asked me if I wanted to go to
Effiloché
with her. I don't think I hesitated even for one second, especially since it's now so close to my appartment. Touching cashmere and silk is always a good way to spend a Friday afternoon, if you ask me. I did not buy these luxurious fibers, though. I have a little bit of self-control. I only got a few skeins of sock yarn.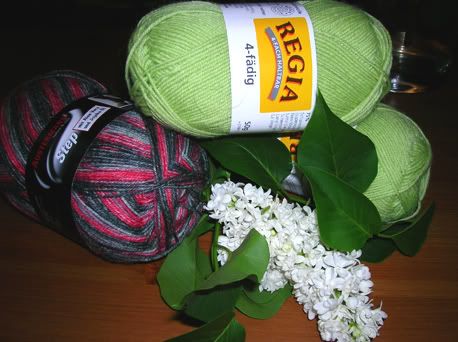 Two skeins of Regia in green that I plan to use either for the
Cablenet
or the
Bayerische
socks. And a skein of Austermann Step, just because I love it.