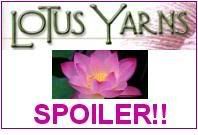 WARNING: I'm going to talk about the May shipment of Lotus Yarn's sock club! Stop reading now if you don't want to be spoiled!
Ok, before I talk about the new yarn, I want to mention two patterns that I've discovered on Ravelry recently (thanks to the option that allows you to look at what your friends put in their queue!).
Numéro Un:
Le Lapin Noir
(Sorry I don't have a non-Ravelry link. If you're not on Ravelry, you need to get an account now!). Isn't it beautiful? I've never tried intarsia but this really makes me want to try it. And I'd probably use the same colours too, they're perfect.
Numéro Deux:
B-side cardigan
(non-Ravelers click
here
). This one showed up on many of my friends' queue so I have a feeling it's going to be très popular.
I also really like
this pattern
(
here also)
, which I found on
Lime and Violet's Daily Chum
. Simple, yet very pretty.
Ok, so now I'm ready to show the yarn.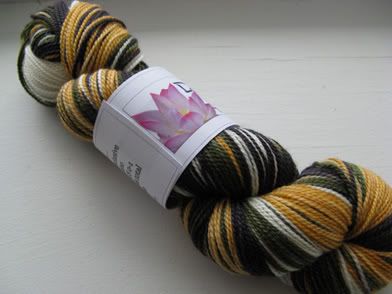 Pretty? I think so too. The name of the yarn is "The Clash" and it's 100% Superwash merino. I'm not sure which pattern I'll use with it. I think I may actually just knit it in plain stockinette and see how it looks.
Oh and is it bad that I can't wait till the June shipment already?