Yesterday, I realized that I had a gift certificate to
Effiloché
that expires on May 30th. So, what other choice did I have but to use it, right? Not to mention that I had to go to the store right in front of it to get a new passport picture.
Speaking of which: I know everyone thinks their passport pic is ugly, but mine truly is the ugliest! No one ever told me I had one eye so much higher than the other! It's almost on my forehead! Man! But oh well, the pic has been taken, it's now in the hands of the passport people (btw, fellow Canadians, don't you just love the new simplified passport renewal process?)
That being said, I'm sure you want me to get back to the point: the yarn! I looked at my Ravelry queue to figure out what project I wanted to knit soon that I didn't have yarn for. I found one: the
Montego Bay scarf
! I figured it could be a good project to bring along on a trip (aren't I the planner!) So I bought this beautiful Sea Silk: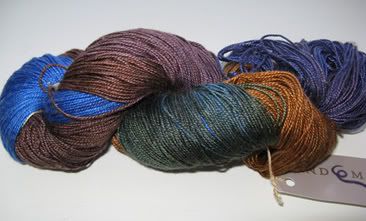 It's going to be a beautiful scarf, let me tell you! I'm itching to cast on for it right away.
I had money left on my gift certificate so I also bought this: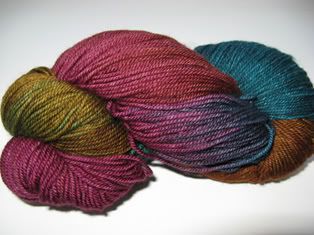 Handmaiden Casbah. 80% merino, 10% cashmere, 10% Nylon. It's going to be the most comfortable pair of socks ever. If I use it for socks. We'll see.