It is now day 2 of the Olympics! Last Thursday, I finished the sorta-SOS08 socks: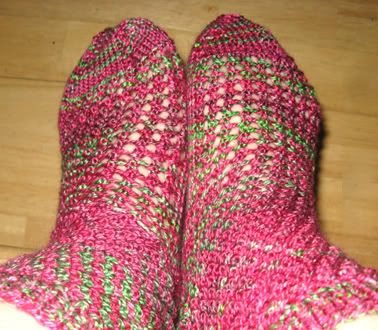 Pattern
:
Summer 2008 socks
by Wendy Johnson.
Yarn
: Fleece Artist Sea Wool
Needles
: 2.25 bamboo dpns
Modifications
: The pattern is toe-up and I wanted to make them cuff-down so I pretty much only used the stitch pattern with my regular sock pattern. The lace part is very stretchy so I had to reduce the number of stitches (from 66 to 50) or it would have been huge!
On Friday morning, as I watched the Canadian athletes enter the stadium in Beijing, I cast on for my first Olympic sock. I'm using Veronik Avery's
Twist and Cables socks
pattern. The yarn is your basic Regia sock yarn. Here's where I am today: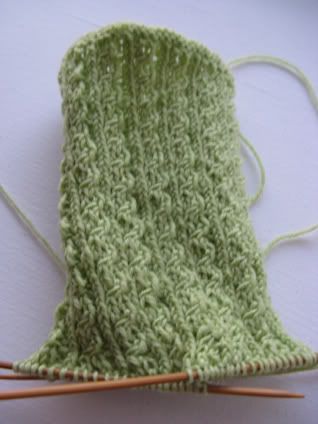 I'm hoping to turn the heel tonight and to finish the first sock tomorrow. We'll see how it goes...