As expected, Canada has waited until the second week of the Olympics to win medals (I'm watching the men sing the Canadian national anthem after winning the goal in rowing as I type this). And as expected, I'm going to have to do a knitting sprint to reach my Olympic goal.
The good news is that I finished the first pair.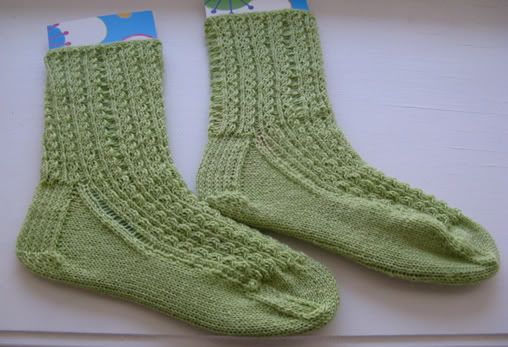 Pattern:
Twist and Cable socks
by Veronik Avery
Yarn
: Basic Regia sock yarn
Needles
: 2.25 mm dpns
Modifications
: I made the cuffs a bit shorter
I love love love the socks!
I cast on for the second pair this morning. I'm making another Veronik Avery pattern, the
Lace cuffed socks
, and I'm once again using Regia. It's going pretty quickly so far, and since the foot is all stockinette, it should go faster than the Twist and Cable. Maybe I'll make it...