I finally finished the first SOS08 sock: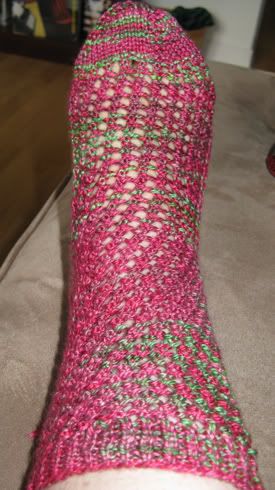 The pattern is Wendy's Summer of Socks 08 pattern... heavily modified. I wanted to make it cuff down instead of toe-up so I did. I also had to play with the number of stitches because the stitch pattern is very stretchy and the sock was way too big at first. Basically, the only thing I took from the pattern was the stitch pattern. I made the heel and toe my way too. I love the result.
I'm using sock #2 to train for the Ravelympics. Yeah, I couldn't resist joining, even though I don't have much hope of reaching my goal. I actually want to try to knit two pairs of socks during the Olympics, which is doable for many, but it will be difficult for me.
I cast on for sock #2 last night and my goal is to finish it before the opening ceremony. We'll see how it goes.
In other news, the whole knitting community is going crazy for the
Twist Collective
, and with reason. So that's where all the Montreal designers have gone!!! I think it's a brilliant idea for a magazine/catalogue. It's good for the designers because they get paid for their work and it's good for knitters because we get quality patterns in each issue AND we only have to pay for the ones we want to make. Perfect. I haven't bought anything from the premiere issue because I have too much on my plate but I'm sure I will in the future. I just need to be disciplined and only buy when I'm ready to knit the pattern.
Ok, back to Ravelympic training. Good luck to everyone who joined!