Look at my beautiful new socks! I love them!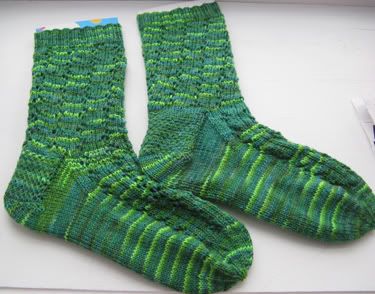 Pattern
:
Paddy's Lucky Clover Socks
by Angela Dominey
Yarn
: Shelby B's Designs 100% Superwash Merino in Lucky Clover
Needles
: 2.25 mm dpns
The yarn and pattern were from last year's March sock club from
Robyn's nest
. The pattern was fun and easy to memorize and the yarn is just fabulous. Very soft. I'm wearing the socks right now and I just love them.
I'm trying not to knit too much right now because there's something wrong with my left shoulder/neck. It's been hurting for days now and it's getting worse each day. I don't think it's knitting-related, but still. I'll go to the doctor sometime this week (probably Tuesday). Last time something like that happened (last year or so), I has to take pain relievers and muscle relaxers, but I was better after a few days.
To
Angela
: You asked me if it's easier to learn to knit with smaller or bigger needles. I think every knitter has its preference (I like to knit socks, so I like small needles) and I think you can learn using any needles BUT my preference for a beginner would be size 4mm to 5 mm needles (US 6 to 8). Bigger needles are cool cause you can use them with bulky yarn and it goes quick, but I find them harder to manipulate. Of course, you also need to choose yarn that will go with the needles (using bulky yarn with 2mm needles wouldn't be a good idea). But for the yarn I sent you, 4-5mm would work great.
Tara
(and anyone else who loves Twilight), go and read
this
(PDF file), it's hilarious! My favourite part is "Rosalie Hale is making dinner…I know, right??"
Another funny.
(Not Twilight related)