A year ago, I took this yarn: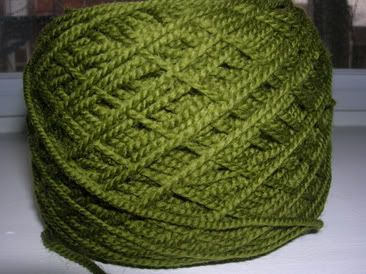 And I cast on for a pair of socks. I knit and knit and knit and progressed: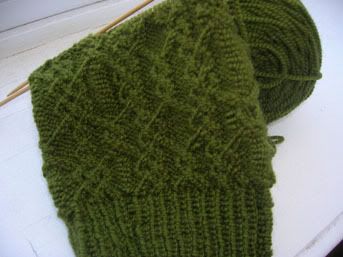 And then I got one sock. And then I decided I didn't want to knit the second sock. So I didn't.
A year later, I decided I did want a pair of green cabled socks after all so I picked the project back up and I knit and I knit until I got... A finished pair!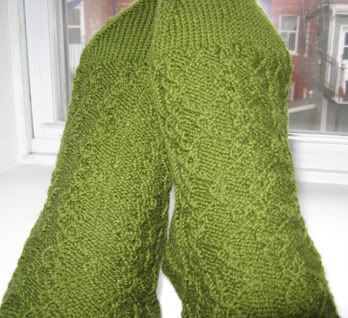 Picture 1: Good colour



Picture 2: Blurry, but more detailed
Pattern:
Cable Net socks
by Ariel Barton (from
Knitty
, Fall 2006.
Yarn:
Reynolds Soft Sea Wool in Olive
Needles:
2.25 mm dpns
Modifications:
I did 3 repeats of the leg pattern (instead of 4) because I was scared to run out of yarn. I think it's a good thing I did because I didn't have much leftover.
I love the socks and I love the yarn, but I don't know how much I'll like non-superwash socks. We'll see.
I wanted to cast on for my Go Habs Go socks as soon as I finished the Cable Nets, but then I realized that I do want to knit something for my friend's baby shower (March 28th) so I cast on for a baby blanket (
Waves of Blue blanket
). Being a slow knitter, I doubt I'll finish it before the shower, but I'm going to try. She's due in June, so I have extra time if I can't finish it by the end of March.
Have you guys seen the new
Knitty?
There are some cute things in there, but nothing that makes me want to cast on ASAP. I really like
Decimal
and
Cachoeira
.