I am sick :( I have a bad cold, and of course I got it just as I was about to enjoy a nice 4-day weekend. Sucks! I don't know yet if I'll be able to go to work tomorrow. Hopefully I will, but I hate being sick at work and I never know if it's better that I go and work or stay home to make sure I don't get everyone else sick.
I've been knitting a little, mostly on the Falling Snow stocking.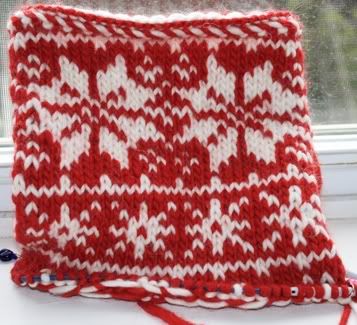 It's going slower than I expected, but I'm still hoping to finish it by the end of the month (that's what I call being optimistic).
Also, this is the time of year that I get jealous of everyone who gets to go to Rhinebeck. But this year, I'm not too jealous, because I wouldn't have any money for yarn even if I could go. That's because I got myself an early birthday/Christmas gift.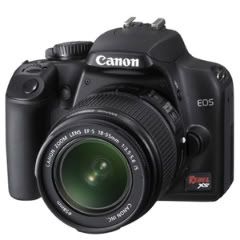 My first real (as in, not a point-and-shoot) camera! It's definitely nothing fancy (Canon EOS Rebel XS) and all the other models in the store were much fancier and pricier, but since I don't know a thing about photography, I'm happy with it. Now I just need to learn how to use it. It's too bad I'm currently so sick I can't even think about getting out to take pictures.