I've been a bad little blogger, I know.
I haven't been able to think of anything good to write about lately. I'm assuming it will all change since I have a few FOs coming, as well as some stash enhancement and a soon-to-happen meeting with a long time blogger-friend. So good things are happening. Expect posts and pics. Hopefully.
I do have one FO to share right now.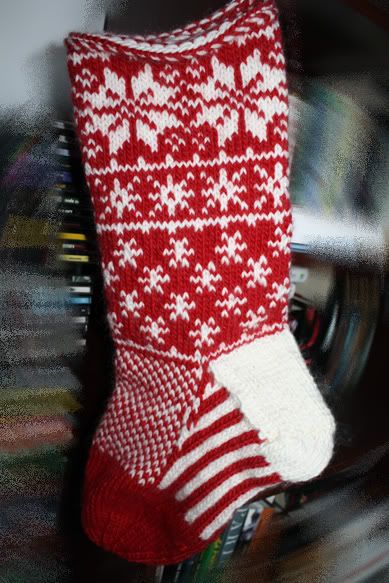 Pattern
:
Falling Snow Stocking
, by Jennifer Hoel
Yarn
: Lamb's pride bulky in Blue Blood Red and White Frost
Needles
: US 10 Circs + DPNs
Modifications
: The tip of the toe is supposed to be white, but I ran out of yarn so it's all red.
I love the stocking and I'm supposed to give it to my mom, but I sort of want to keep it for myself. ;) I guess I'll have to make another one.