Remember last year when I blogged daily for a whole month? Yeah, it's not happening this year. Things are pretty quiet these days. Same old, same old.
But I have been knitting. I set aside my Potpourri mittens and decided to cast-on for another pair of socks (part of Sock Knitters Anonymous Sockdown again). The November challenge is to either knit a pattern that utilizes mosaic/slipped stitches or a pattern designed by Chrissy Gardiner. There's also a mystery sock pattern designed by Star Athena that utilizes mosaic stitches. I chose a Gardiner pattern and I'm hoping to finish the socks in time to give them to my mom for Christmas (they must be finished by Dec. 31 to be elligible for prizes for the SKA challenge).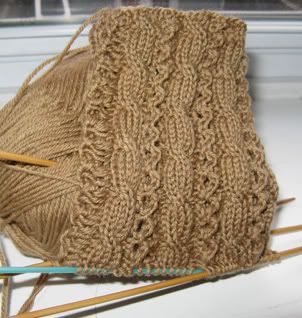 The pattern is
Cabled Lace socks
(look at the pattern pic on Ravelry, it's much prettier than the pic I posted above). I'm using Knitpicks Stroll in Buckskin.
In non-knitting news, I had lots of fun last week at work when I got to cover a very crazy event. As you may or may not know, I mostly cover entertainment stories at work. Political, once in a while. But sports? That never happens.
Well last week was the premiere of a movie about the Montreal Canadiens' 100th anniversary. Sort of (the story is actually about a young hockey fan who's very sick in the hospital and a teenager who plays hockey, but the Habs play an important role in the story). I was sent on the red carpet to cover it and let me tell you, it was crazy!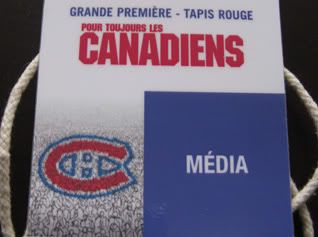 There were hundreds of fans waiting for the actors and the Habs and they were screaming! It was fun though. I got to talk to Henri Richard (I was lucky, he didn't talk to that many reporters but I guess he took pity on the poor 5'2 girl with her camera who yelled "Mr Richard! Mr Richard!").
When the Habs players came out of the limos, the crowd went wild and it was quite difficult to talk to players. I couldn't ask Carey Price a question to save my life, I was stuck in the middle of a group of reporters who were all trying to talk to him.
I then got close to O'Byrne and got scared. That guy is a monster! I think he's 6'5 and huge. Did I mention I'm 5'2? Well I lied. I'd be 5'2 if I was wearing skates. I think even if I had tried to ask him a question, he probably wouldn't have heard me. ;) So I opted for a player more my size and went to talk to Gionta instead. Hehe. I also got to talk to Bergeron, Lapierre and now former Hab Guillaume Latendresse. Oh and Cammalleri, but just as he was about to answer my question, a PR lady came and got him (and yelled at me for going over the velvet rope and onto the red carpet. I'm short! It was the only way for me to get the guys on film!)
Anyways, it was fun, but I still prefer to talk to actors and musicians rather than athletes.