Chris is away all weekend for work, which means I have tons of time to knit. This morning, I started this: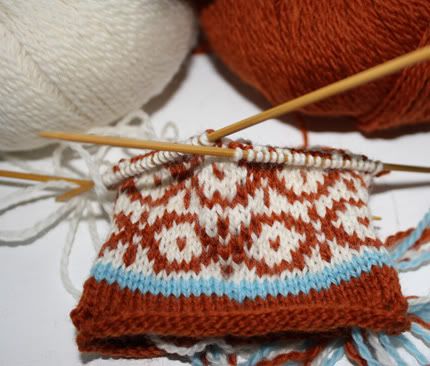 (
Potpourri mittens
, from Vogue Knitting, Fall 2008. Yarn is Knitpicks Palette in Masala, Cream and Sky.)
I took that picture this afternoon. I have about twice as much done now. It's funny how quickly this is going considering how long it took me to knit a Christmas stocking with bulky yarn.
I'm loving the mittens, though I believe I should have chosen a lighter orange. Oh well. That's what happens when you order online. I will need to get a colour card next time I order from Knitpicks, because I plan on knitting more mittens this winter. Especially since I bought this last month (I think I forgot to mention it before):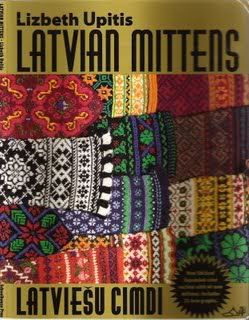 It's a lovely, lovely book and I want to knit thousands of mittens now.
I also have a FO to share: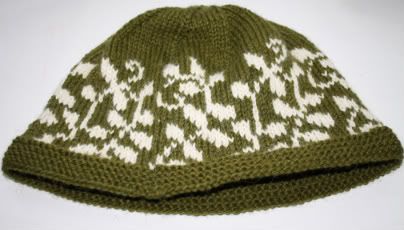 Pattern
:
Flora
, by Margaux Pena
Yarn
: Susan Andrew Collection Warani (green + cream)
Needles
: US 5 / 3.75 mm
Modifications
: I almost ran out of yarn at the end (I was using leftovers from my
Fake Fake Isle
hat.) So I skipped a couple of plain knit rows between the crown decrease rows.
The hat will go to my aunt, who is almost done with her treatments for breast cancer. I made her a
Parrotfish hat
a few months ago, but I wanted to give her something warmer for winter.
BTW,
Robyn
is going to be knitting all night long to raise money for the fight against breast cancer. I think it's a wonferful thing and I wanted to publicly thank her. I can't wait to read about it on your blog Robyn!