My man is currently out of town for the week-end and I purposefully didn't make any plans (other than a dinner with friends Friday night). I wanted a quiet week-end, filled with knitting and that's what I got! I was busy!
I am still working on the Honeybee cardigan and I realized I'll probably be spending the next few months working on it. It's going slowly, but I can see progress.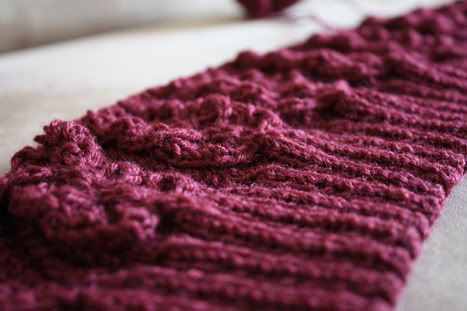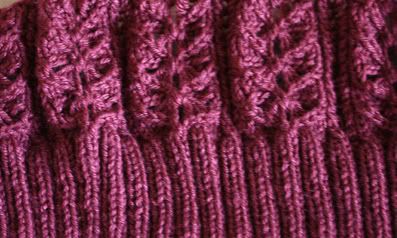 I have 5 inches done. I need 15 before I start the sleeves. Yeah, it'll take a while ;) But I'm loving working with the yarn (Knit Picks Gloss), so that's ok.
Yesterday, I finished my Kai-Mei socks.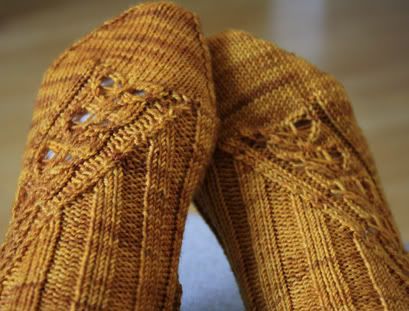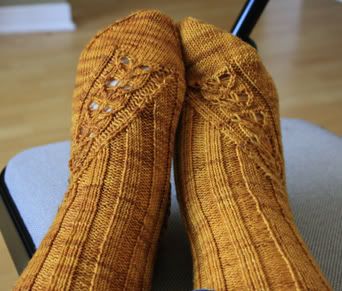 Pattern
:
Kai-Mei
, by Cookie A., from her book Sock Innovation.
Yarn
:
Blue Moon Fiber Arts Socks that Rocks, Lightweight
in 24 Karat
Needles
: 2.25 mm DPNs
Mods
: I was scared I'd run out of yarn so I made the leg one inch shorter.
Oddly enough, I don't feel like making socks right now (shocking, I know) so I didn't rush and cast on another pair as soon as I finished these. Instead, I cast on for the
Icarus shawl
, using this yarn:
(Knit Picks Shimmer in Maple Leaf)
I'm hoping my shawl will be as beautiful as
this one
. Yeah, call me copycat, I don't care. I saw it and now I want it. ;)
Oh and I went to Effiloché earlier today to get needles for the shawl and I did.not.buy.any.yarn. Willpower. I have some. I did go and fondle the Tanis Fiber Art sock yarn though.