I haven't been posting much lately. I'm currently on a yarn diet so I don't have any goodies to post. And I'm working on bigger projects, so I don't have any FO either. Life has been pretty ordinary. Work, work, pack and work. I am incredibly excited about our move in July, but damn I hate the whole packing thing. I can't wait until we're there!
I've been mostly working on the
Icarus shawl
and I now only have one of the center repeats left. Unfortunately, a shawl-in-progress isn't an wasy object to photograph. It'll looks good when it's done, but now it doesn't look like much.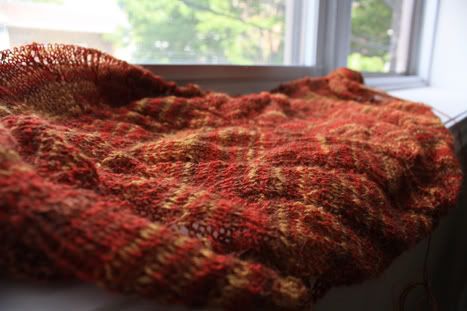 Hopefully I'll have an FO to share soon.
In other news, after not knitting socks for a few weeks, I find I'm itching to knit them again. I may do the
summer of socks thing
. I also need to start a baby blanket for a friend.
Ok, back to the shawl and hockey watching. I'm hoping it won't be the last game of the season.