Pregnancy status: Overdue! This baby has decided to be fashionably late. My doctor didn't seem to think I'd make it to my next appointment (this Thursday), but I'm starting to think it may happen. Who knows?
Last week, I started a brand new pair of socks and I was wondering how much I'd have time to knit on them before baby got here. Would I turn the heel? Would I finish sock #1? Would I get to the toe of #2?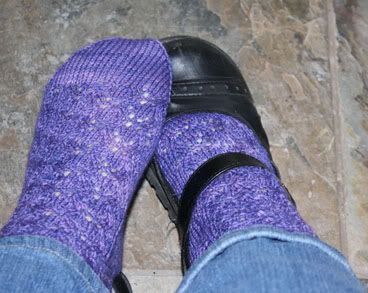 I actually finished them! I'm sorry I don't have a great picture, I'm not really in the mood for a photo shoot (and bending over to photograph my own feet is not an easy task, let me tell you!).
Pattern
:
Glynis
, by Cookie A
Yarn
: Slackford Studio, LLC Stalwart Sock in From Dusk Till Dawn
Needles
: US 2 - 2.75 mm needles
Notes
: I usually use US 1 needles for socks but I had read comments saying it wasn't a very stretchy pattern so I opted for bigger ones. They fit very well so I think I made the right choice. I also chose to do only eight repeats (instead of nine) on the legs, because I have short legs.
If you ever knit this pattern, don't forget to check the
errata
.
So I finished the socks yesterday and I cast on this morning for... another pair of Cookie A socks, also from the book Sock Innovation. This time I'm making
Eunice
, using Knit Picks Essential Tweed in Plum. I guess I'm in a purple phase. I really like the yarn, it's a shame Knit Picks has stopped making their tweed sock yarn!
So, do you all think I'll get to finish these socks before baby gets here?