Pregnancy status: 40 weeks pregnant! From the beginning of this pregnancy, I've thought I would go overdue and it looks like my instinct was right. I am just now starting to get uncomfortable, so it's not too bad. My next appointment is on Thursday and I do hope baby will be here before then, but we'll see. I've loved being pregnant so much, I'm going to miss it when it's over (and I'm not sure there's going to be a baby #2), but I'm sooooo looking forward to meeting my little guy!
This past week, I've been knitting socks! I'm on a sock yarn kick and a sock pattern kick. If I had listened to myself, I would have cast on for a dozen new pairs of socks. But I've only been working on one pattern,
Glynis
, by the great Cookie A. Love.the.pattern. And I love my yarn even more: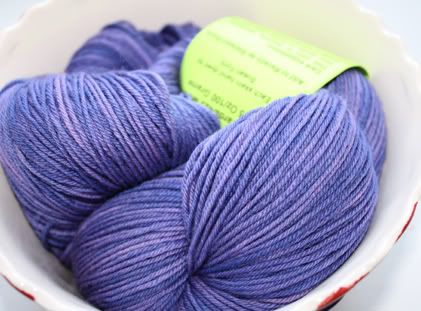 It's
Slackford Studio, LLC Stalwart Sock in From Dusk Till Dawn
. The colour is lovely and it's delicious to knit with. I have another skein in a grey colourway but I will be ordering more for sure.
I'm currently done with sock #1 and I'm at the heel flap for sock #2. I could have a new pair of socks soon, depending on when baby decides to come.
I've also spent the past week matching the sock yarn I currently own to sock patterns I want to knit (most of them from Cookie's Sock Innovation book). I doubt all the projects will come true, but who knows. I'd sort of like to knit a lot of socks from stash so I could order tons of new sock yarn guilt free. :)