January = resolution time!
I know a lot of people who hate resolutions, mainly because they never keep them. But I like them... even though I fail 99 % of the time. I think I have vowed to lose weight for the past 15 years or so and it never happened. But that doesn't mean I'll stop trying. My mother in law was a smoker for over 40 years. She tried stopping countless times and it never worked. But last October, she celebrated her first anniversary as a non-smoker. And that proves that just because you've failed again and again and again, it doesn't mean you won't succeed one day.
I like resolutions because I like having goals. So I set myself goals, in January of course, but also throughout the year.
I still have my goal of losing weight. I have a lot to lose, since I haven't lost all that much of the baby weight and I was already overweight to begin with. My mom is getting married in June and I'll be the Maid of Honor. I want to lose 30-40 pounds before that, which is a lot but I think it's doable.
I also have knitting resolutions. Or I should say shopping resolutions. I have too much yarn for the little space that I have. And because of that, everytime I do buy yarn I feel super guilty even if it's yarn I'm going to use right away. So I need to knit from stash as much as possible. My goal is to do just that at least until Fall.
I especially want to knit my sock yarn because I have A LOT. And I just so happen to need socks right now so it all works out. I'm shooting for six pairs this year, we'll see how that goes. I already have two on the needles: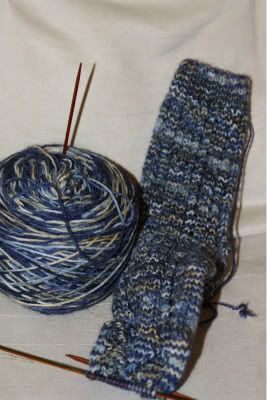 Norfolk Ramblers
That second pair is a pair of plain vanilla socks. I was happy to see that I can still knit socks without a pattern, I hadn't made a plain pair in a long time.
Another resolution: to use my sock books! I want to keep knitting socks from Sock Innovation, as well as my many other sock books.
Finally, I also vow to blog more this year. I miss my blog and I miss reading comments. Hardly anyone reads this blog anymore and I understand why. My goal is at least two posts a week, so expect a new one soon! And I can already say that there will be yarn porn (because I did get new yarn before the start of the yarn diet).