Ok so I mentionned in my last post that I wanted to knit from stash for most of the year. That means no yarn porn for a while... after today! Because I did get some new yarn this past month, I just haven't posted about it until now.
First, instead of buying anything at Knit Picks' Cyber Monday sale (where nothing I wanted was even on sale), I treated myself to two skeins of Wollmeise sock yarn. I had been wanting to try it for a while, but as you all know, they're not easy to get. Someone on Ravelry posted that there was still some two-skeins grab bags available and I thought "Why not?" I had no idea which colours I would get, but I knew I would have no problem selling them if I didn't like them so I wasn't too worried.
But it turns out, I LOVE them both. The first one wasn't easy to photograph: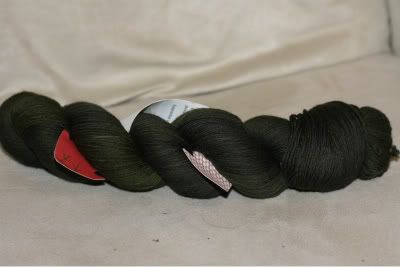 It's a very dark green and it's absolutely beautiful. I'm not sure yet which pattern I could use to show it off, because dark yarns like that tend to hide patterns a bit. I'm keeping my eyes open for the perfect combination.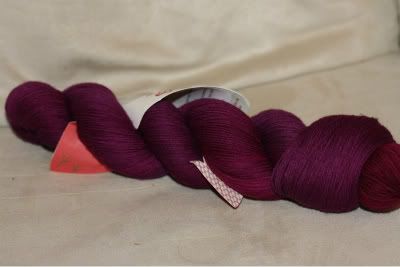 The second skein is soooooooooo pretty, I like it even more than the first one. I think I'll have an easier time finding a pattern for it.
The following yarns I received from my mom at Christmas. She made a big Knit Picks order in November and gave me some for my birthday (I already posted pics of them) and the rest on Christmas Day. I'm very happy I got some bulky because it's something I rarely buy and lately I've been dreaming of big hats and scarves.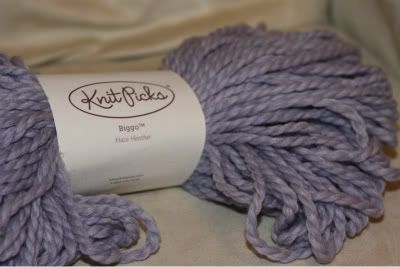 I got three skeins of Biggo (Knit Picks' new bulky line) in Haze Heather. It's very very soft. I'm currently knitting a hat with it (so you should see a FO soon) and I like it a lot. I can see myself ordering more of this (you know, when I'm allowed to buy yarn again).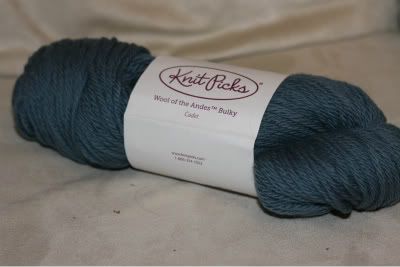 Wool of the Andes Bulky in Cadet. I have a cowl in mind for it, but I'm not 100 % sure yet.
Aaaaah, my beloved Stroll Tonal, and in Blue Violet, the one colour I was hoping would be on sale on CyberMonday. It's beautiful of course and it goes in my Tonal Collection (I'm obsessed I'm telling you). I think my biggest challenge this year will be resisting the new colours of Tonal when they get released, as well as some of the backordered colours I've been coveting. Oh well. I CAN live without them.