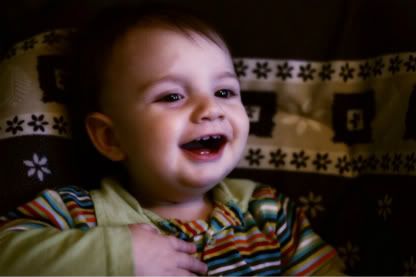 Lens: 50 mm 1.8 Info: 1.8, 1/125 ISO 200
Ok so I'm very interested in learning about photography. I read about it. I took an intro class. I got a new lens for Christmas that I love (the 50 mm f/1.8 used above) and a cute little subject I can take tons of pictures of.
But the truth is: I suck. Haha. I can take a good snapshot here and there but I feel I don't have "the eye", when it comes to photography. I'm not an artist and you know what? That's ok. And that doesn't mean I can't get better. But to get better, I need to practice.
I've been toying with the idea of trying Project 366 this year, but to be honest, I can't see myself keeping up with it the whole year. But then I heard of Project 52. One picture a week for 52 weeks. Or 51 in my case since I'm one week late to the party. THAT I think I can do.
So there you go, my only goal for this project is to post one picture a week. I can't promise you'll see good ones, but I'm hoping I can see at least a little bit of progress between now and December. I can, however, promise that 90% of my pics are going to be of my son. But he's cute so that's ok :)