Yay, there's now a
Montreal Knits
community! Thanks to
Jo
for sharing the link. Of course I had to join right away and then I had a silly thought for a button: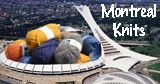 Since the Expos are gone, we might as well use the stadium for something ;)
Oh and if you check out the Montreal blog page, you'll see pics of the inside of
my favourite LYS
.
***
In other knitting news, I casted on a pair of socks, using the pattern on the fleece artist yarn that my Secret Pal sent. But I didn't use the gorgeous yarn, because I want to practice on another pair first.
I did, however, use the bamboo needles. My Secret Pal warned me that I could develop a bamboo addiction. And I gotta say that I really like to hold them in my hands. Hmmm...