Honey, I'm home!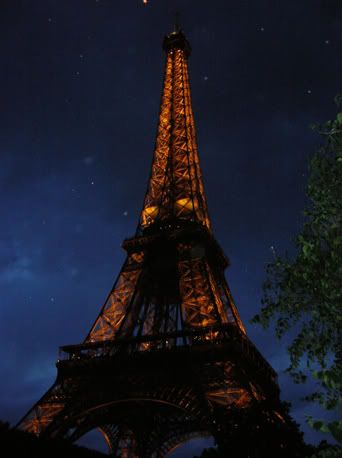 I gotta say that it was much more work than a vacation. I worked 12+ hours every day (yes, on weekends too) and I visited Paris in the morning and on my only day off (the Sunday before I left). I got back home last night at 9:30 but it felt like middle of the night to me so I fell asleep right away. I got up at 6:30 this morning thinking it was the middle of the day of course.
I was working in Paris' Red Light district, can you believe that? The street was like this: sex shop, porn DVD store, office, peep show place, yarn store, more sex shops, french hookers...
Hmm did I mention yarn stores on my street? Yep. But unfortunately, they were always closed whenever I had some free time to actually go out. So no French yarn for me. I worked a little on the ribbon top while I was there, mostly while watching bad French TV in my hotel room at night (now i'm not saying that all French TV is bad of course, only whatever was playing between midnight and 2am. I did get to see Lost in Translation, one of my favourite movies ever, though).
Next Sunday = knitting meetup! I really can't wait. I doubt that the ribbon top will be finished, but maybe if I knit non-stop until then... ;) (Unfortunately, I have to get back to work tomorrow and Thursday so that's leaves me only a little bit of knitting time since Sunday).
Special message for Lee-Ann
: I just learned the news while reading past messages from the montreal yahoo group. I'm keeping you in my thoughts and wishing you the best. I know things will be all right for you. Oh and I refuse to believe you're 38, just like I refuse to believe that any of the girls in anti-wrinkle cream ads is a day over 25.