I finished the RibbonXback top from
Knitty
!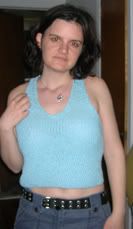 Analysis
1. It is not flattering. I should have made the XS.
2. You can't see it but it's sort of see-through. Ooops.
3. It should have been longer.
4. I should do more crunches.
Here's the back: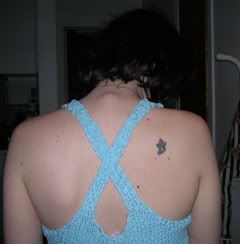 ***
I still haven't decided if I'm going to join the Secret Pal 5 thing. I had so much fun in the past two SPs that I really want to do it again, but money is a bit tight... hmmmm. *ponders*
Ah well. Probably not.
***
Meeting the Montreal knitters on Sunday, weee!