I finished the socks at the beginning of the week but I was too busy to post a pic until now. Here it goes: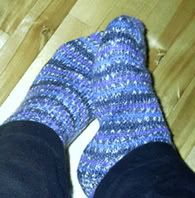 Very comfy. They'll keep my feet warm in the plane on Monday.
And I began a new pair, with the
Fleece Artist
yarn that my Secret Pal sent.
Did I say Secret Pal? No, I mean
Amanda
, my not-secret-anymore Pal!
I got another great package on Thursday. Not only did I get a card which revealed her identity, I also got a bunch of cool stuff! Unfortunately, the batteries of my camera died so I don't have a pic (maybe tomorrow). I got two skeins (1 red, 1 black) of Lamb's Pride Worsted so I can make the Poster Boy bag from SNB Nation. I also got the necessary needles to make it (bamboo of course, now I'm addicted ;) ). I got a cute notebook with cats on it. AND I got some awesome stitch markers and a pair of earrings that come from Amanda's online store,
Homebaked
. The earrings match perfectly my favourite ring and necklace. I love everything and I'm pretty sure that I got the best Secret Pal out of all the participants. :p