Next week, I'm having dinner with a friend who's going to have her first baby in August. So I made her this: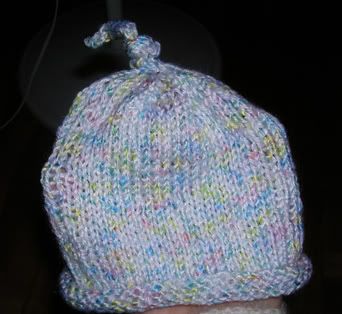 Awwww. Isn't it cute? I hope she'll like it.
***
If you want to win a shawl knitted by Veronik Avery or cool yarn AND give to a good cause at the same time, I urge you to check out the
Montreal Knits
blog. Details are all there. Go now!
***
And now, ladies and gentlemen, here's a little praisin':
I bought a Denise needles set a couple of months ago. Unfortunately, I broke one of my cords (it was a total accident, I swear!). I had heard that you could get a replacement if you sent 1$ for postage to the company, but since I live in good ol' Canada, I figured I'd email first to ask if I need to send extra postage. Well the lady who answered my email asked me to just email her my address and tell her which cord I broke and she'd send a replacement to me. No postage to pay. Now that is good customer service. And I LOVE my Denise set. Therefore, I recommend it to everyone. Go buy it. Now.