So yesterday was Knit in public day and I met with three Ms -- Mona, Molly and Mary -- in a coffee shop. I LOVE TO KNIT WITH OTHER PEOPLE! There, I said it.
I actually got a lot of knitting done yesterday, at the meet and afterwards. I finished the socks: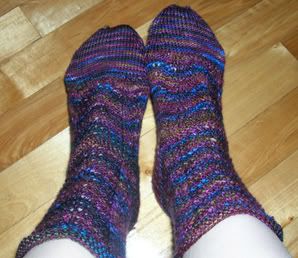 (I only wore them long enough to take the picture. You can't wear wool socks when it's 30 degrees (Celsius) outside, no matter how soft and comfortable they are.
I also casted on for the Poster Boy bag from Stitch N' Bitch Nation. Except mine will be Poster Girl (or something else entirely if I can't make it work). Yay, Caro's doing Fair Isle! Of course, I'm nowhere close be making
these gloves
, but I'll get there... someday.
Random annoyance: I'm on a yahoo mailing list for a knit-along, and it looks like one of the members is on vacation right now. So every time someone sends a message to the list, we get an automated "I'm away on vacation" reply. Every time! Grrrr!