This is a boring time to be a blogger. The reason is that I don't finish anything! It's not that I don't want to. I'm dying to finish some of these projects. But I'm a slow knitter and I'm currently working on longer projects. The exception being: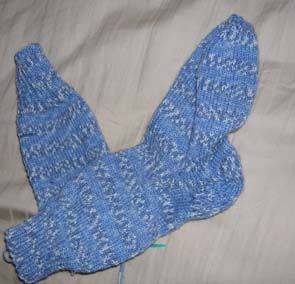 These are the still unfinished second pair of Olympic socks. Taking the picture, I realize that I should really start working on them again. They're cute.
Then we have Mariah: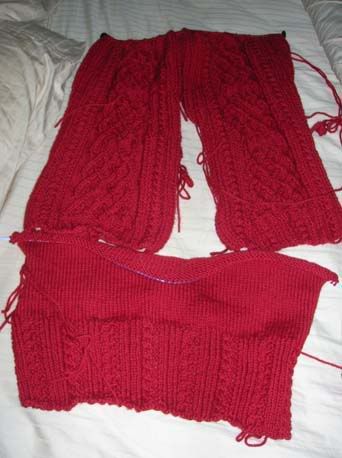 You see two sleeves and part of a back. If the sleeves look weird to you, well... they are. See, I learned how to read a chart correctly (really, I did!), but then all my projects involving charts were done in the round. So when I started the sleeves, I immediately began reading the charts as I had always done, from right to left... on both sides. Eeep! I realized the mistake halfway through the sleeves, but I sort of liked the way they look so I kept going. :p
I'm almost halfway done with the Big Bad Baby Blanket: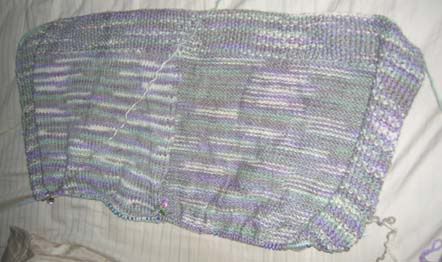 This is taking longer than it should, because while it's lovely, it's quite boring to knit. And I'm pretty much only working on it when I'm at a knitting meet-up. But it will be done before May. That's my goal.
Finally, the socks-that-may-never-be-finished: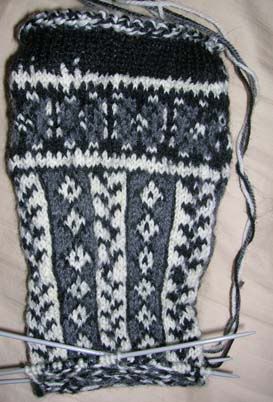 My first try with fair-isle. They take forever. And they will most likely be too small. I'll try to block them bigger, or I'll just frame them or something.
Hopefully, the next post will have a FO. Yeah like that's likely ;)