I received the cashmere yesterday. Yummy! I gotta say the shipping was incredibly quick. I like that.
The colour is significantly darker than on the picture, but I really don't mind because:
a) I expected it (it's never really like on the monitor)
b) I really like the real colour anyways
I washed some of it and it's drying right now. I wanted to divide the cone into two hanks, but after I started to "de-cone" it, it got a bit tangled at one point so I cut it. So what I have washed is only a tiny part of what I bought, but I'll get to see what it's like when it's washed before I do the rest. Maybe I'll post pictures too.
Oh yeah, and
Jennifer
asked me about the seller. His (her?) name is Colourmartuk. Of course, I'm in no way affiliated, just a happy customer.
This week, I also got this: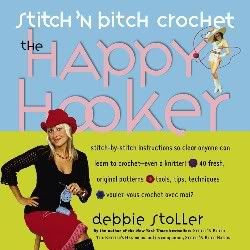 I know there are some Debbie Stoller haters out there. I also know there are some crochet-hating knitters out there. But I'm not. The first Stitch N'Bitch book is what made me want to learn to knit. I loved the kitty hats, the Under the hoodie sweater and the socks so much. Of course I haven't made any of these items :p And since then, my tastes have changed and I'm not as much into the hip stuff. Maybe because I realize that if I'm going to spend so much time knitting something, I don't want it to be out of style after a couple of months ;)
Anyways. I still got the Hooker book, because I really want to learn how to crochet and I figured the instructions will be easy to understand. It looks like they are. I'm not too crazy about many of the pattern, though I really really like Froufrou and the jacket (can't remember the exact name right now).
Unfortunately, I only seem to want to knit Mariah right now so no crochet for me for a while. I'm almost done with the sleeves now. Finally. I think I'll have them done by Sunday.