I didn't feel too good and the end of last week so I ordered two books :
Barbara Walker's Learn to Knit Afghan
and
Knitting Without Tears by Elizabeth Zimmerman
. I should receive them sometime next week or the one after.
Ongoing projects update:
Mariah
: Still haven't touched it. That should change too cause I have a feeling I'll put the shawl aside for a while (see below).
Kiri shawl
: See that pic: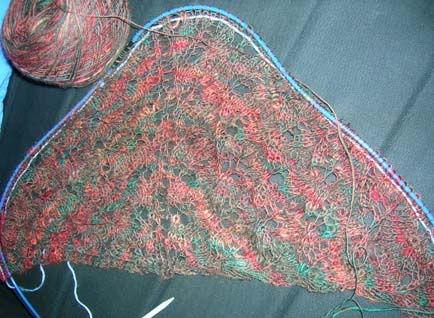 That was the shawl after, I don't know, six repeats or soo. Notice the little pale blue thread close to the needle? That's a lifeline. I religiously used lifelines for these six repeats and then I got cocky. I hadn't really made a big mistake so far, so why use lifelines? I'm now on the 9th repeat and I've done something wrong that I can't identify. As much as I don't want to rip it all back to that six-repeat lifeline, I think it'll be easier to do so than to try to find the mistake and fix it. :(
Red socks
: Of course, with the shawl catastrophe, I needed an easy knit so I worked on the sock.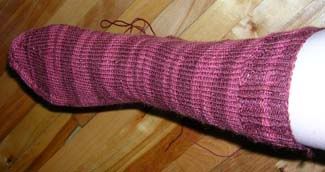 And the rib is almost done on sock #2.