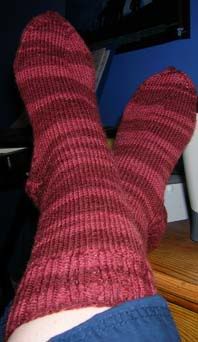 The red socks are DONE. I love the colours and I'm currently wearing them even though the weather is not really one for warm socks. My appartment is pretty cool though so I'm not sweating.
I feel like I hadn't had a finished object to post in forever! In fact, when I uploaded the red socks pic in my
2006 finished objects gallery
, I realized I have only completed seven projects this year so far. It's crazy.
In comparison,
last year I finished something like 20 projects
.
I mean, my goal isn't to knit more and more each year, so it's really no big deal. Mariah was (is!) a challenging project for me and I prefer to finish it than to knit 20 hats and scarves. I guess I was just surprised today to see so few finished objects so far this year.
I am happy to say, though, that Mariah will definitely be finished this year! My goal was to have her done by August 6th and if I don't get distracted by
other projects
life, there should be no problem. In fact, I finished (re)knitting the sleeves! So now I only have to join all the pieces and knit the yoke and hood. And sew the zipper.
In other news, the fall previews are up for
Interweave Knits
and
Vogue knitting
. They've actually been up for quite sometime now (especially the IK ones) but I don't think I've mentionned them yet. Both issues look promising. IK once again have great patterns by Montreal based designers :
Véronik Avery
,
Mona Schmidt
and
Kate Gilbert
.
Other good news (or bad news, from the wallet's point of view):
KnitPicks
has new yarn AND new colours for some of their old yarns. I WANT THEM ALL!