Yesterday, I had the chance to hear
The Yarn Harlot
speak in Montreal. If she ever comes to your city, I suggest you go hear her, she's hilarious.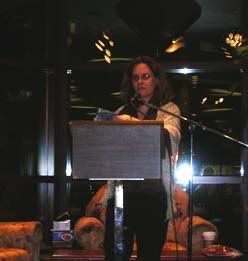 Stephanie Pearl-McPhee as she's about to take a picture of the Montreal knitters with her travelling sock
Unfortunately, I had to leave before she was done, so I didn't get to meet her. I was disappointed because I really wanted to say hi and to get my book signed, but I really couldn't stay.
In other news, here's my progress on the blue cardigan: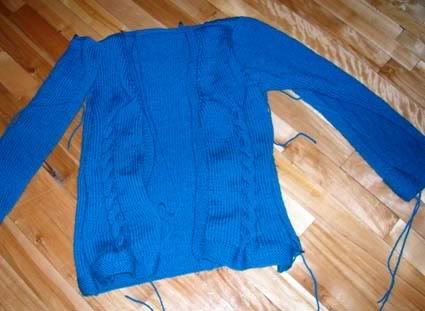 All the knitting is done, the shoulders have been seamed as well as one of the sleeves (well it's been attached to the body anyways). I really seriously need to register for a finishing class or workshop. I suck at seaming so bad, my sweaters never look right because of it. No matter how many books I read or how many videos I watch, I can't seem to do it right.
I cast on for
Fetching
. This should be done quickly. Then again, the Jaywalkers should also have been done quickly and I'm not even at the heel of the second sock yet (I'm almost there though). I don't think I've ever taken so much time to finish a pair of socks. And it's not because I don't like them. I don't know, they just take forever. Speaking of socks,
Ms. K.
was knitting a fabulous pair yesterday. If you read this, could you tell me what yarn you were using (and where you got it if you remember)? I really need pink socks. :)