I went to my LYS today and I'm pretty happy with myself. There were sooooo many nice things and I really wanted to buy. But I only got the new Interweave Knits and yarn for my Secret Pal. And because it will be the last gift and I'll reveal myself in the package, I can post a picture of it!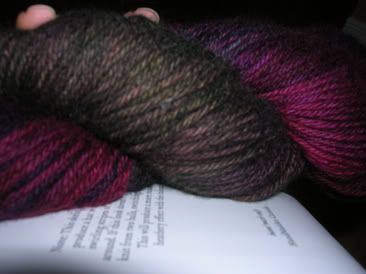 The picture doesn't do the yarn justice. It's 100% cashmere and it's a dream to knit with. What can I say, I'm a good pal and I always keep the great gift for last :)
No yarn for me, but like I said, I did buy the new IK. Am I the only one who thinks the girl on the cover looks a little bit like Jennifer Garner? There are a lot of cute patterns in it (I esp. love the celtic bag) but nothing that I want to cast on for right now.
What I do want to cast on for right now, is
the Cardigan for Arwen
. The funny thing is that it wasn't even in my Ravelry queue (which now contains 74 items) until this afternoon. But I saw Kate Gilbert at the LYS and she was wearing hers (the original) and it was BEAUTIFUL. And now I want one. Like now. Maybe I will end up buying yarn for my 30th birthday after all. (I think it would look perfect in
Andean Silk
, in Bluebell. Or maybe Hollyberry.
My Endpaper Mitts are done and being blocked. You'll see them tomorrow.