I finished the socks for my mom's boyfriend!
Pattern
: No pattern
Yarn
: Ehh.... Regia something?
Needles
: 2.25 mm dpns
Comments
: I'm so NOT USED to knitting socks for big feet!
I'm glad they are done though. Now I only need to finish my boyfriend's scarf and all my Christmas gifts will be done. Here you see me working on it: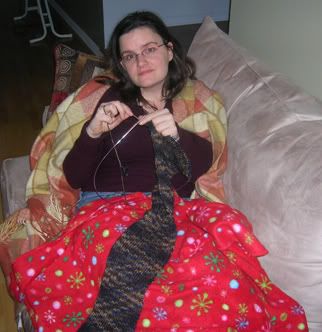 Yes, it's very cold in the house! I have half of the scarf done, I just finished the first skein and I have two. I love how there's a zigzag in the colours.
Last night, I used my ball winder for the first time to wind the angora that my SP10 pal sent me. The next project will be mittens (for me!) I think.