The mitts are done! They are cute, I love them!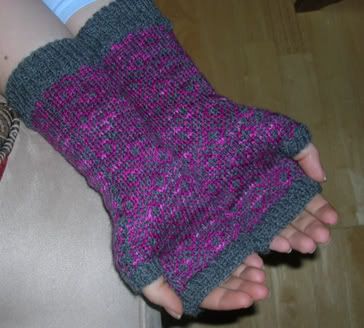 Pattern
:
Endpaper Mitts
, by Eunny Jang.
Yarn
: The pink is the merino sock yarn by Fearless Fibers. The grey... I'm not sure! It was the yarn from my Fair Isle socks, that I ended up frogging. I think it's Patons Kroy but I'm not 100% sure.
Needles
: 2.75 mm and 3 mm DPNs
Notes
: I love them and they were very easy and quick to knit. BUT if I were to make them again (and I just might), I wouldn't do the faux seam. I hate that grey line in the middle. Oh well.
And I need to say again that I LOVE Fearless Fibers. The yarn is soft, it has great colours and the skein is HUGE! Seriously. With one skein, I made a pair of Roza's socks, then I used the leftovers for the mitts, and I still have this much left: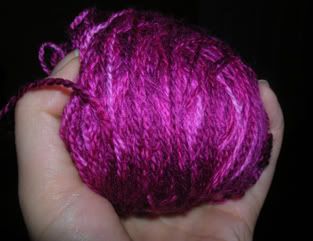 It's still a pretty big ball in my hand. (And now I imagine all the Google hits I'll receive from people looking for big balls in my hand HAHA. Fooled you!)
Okay. Now the WIP. Since I'm done with the mitts, I need to finish those Christmas presents. I've worked on the socks for mom's boyfriend: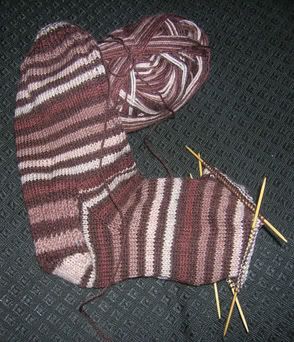 I want to finish them and my boyfriend's scarf ASAP so I can knit for me again without guilt. I see more fair isle in my future, yes I do!