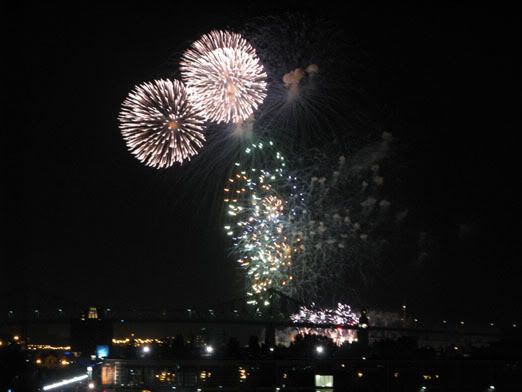 On Saturday, I went to my friend Claudia's fabulous appartment so we could go on her terrace and watch the
fireworks competition
. Australia was competing and we were blown away! It was fabulous.
And to make this knitting-related, at one point, the fireworks were the exact same colour as the yarn I'm using for my SOS08 socks! ;)
(I tried to upload a video but it wouldn't let me. Those of you who are my Facebook friends, I posted it there).
I also have good news to share, now that it's official. I applied for a permanent position at work a few weeks ago and I got it! I'm very happy because it means that I'm assured to always work full time, I get insurance and vacation time (13 days next summer, then 3 weeks the year after!). Yay!
And in six weeks, I will be in Europe! We have booked all our hostels and hotels and we're READY (except we still have a million things to do before we leave!)