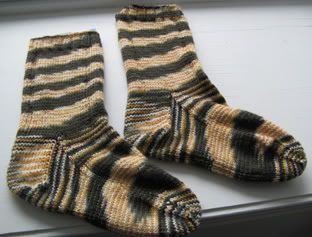 I finished my Clash socks! The yarn is from Lotus Knits (exclusive colourway for the Punk Rock sock club). I didn't use a pattern, it's just plain stockinette. They fit perfectly and I love the way they striped!
I'm now ready to cast on for pair #2! I'm going to make the
Summer 2008 socks
(Ravelry link) by Wendy Johnson, except I'm gonna make 'em cuff down.
I have the perfect yarn for it too, it's similar to the one she used in her design: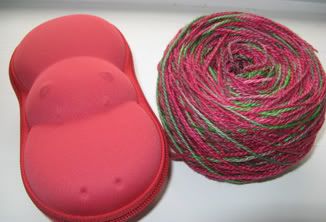 It's Sea Wool by Fleece Artist, or something like that. Pretty eh? Oh and the cute hippo is my brand new notion storage case. I got it from
Robyn's nest
when I visited Robyn herself on Monday. How cool must it be to have a yarn store in your own home!
I spent the afternoon knitting with
Robyn
,
Angela
, Robyn's sister Amy and Madeleine. I also got to see Robyn's son Sean again, and meet her new baby Mack!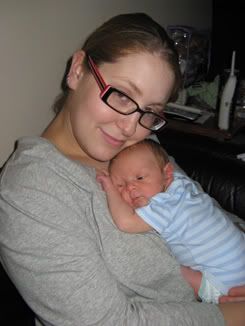 Awwwww! I love that pic, Robyn I hope you don't mind that I posted it!