So, while the whole world (or so it seemed) was getting ready to go to Rhinebeck (NO, I'm totally NOT jealous), I decided I needed my piece of knitting goodness too, so I went to Ariadne's knit night on Thursday.
It was well worth it, cause I got to see
Mona
's beautiful daughter Hannah, who is only a couple weeks old. And beautiful, let me tell you! Congrats again, Mona.
I had planned on buying myself something, but I ended up being VERY VERY good! I only got: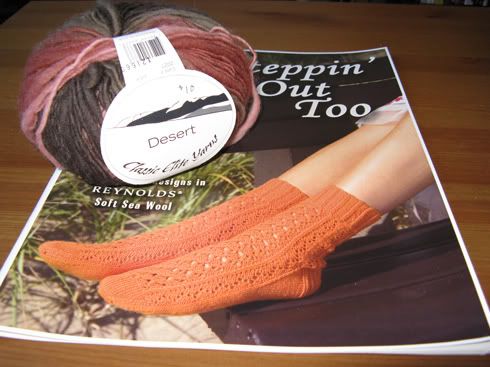 A skein of
Classic Elite Desert
, 3mm bamboo circulars (not pictured) and
Steppin' Out Too
, since I already have the first one and love it (I've only knit two patterns from it so far, but I will knit more for sure).
As for the Desert yarn, I want to make a hat out of it. There was a beautiful one on display in the store, and I found out I already had a pattern in my Ravelry queue (
Halley's comet hat
)! But then, while browsing Ravelry, I also found out about the
Madge
hat, and I sort of want to make it too. So I don't know which pattern I'll choose. We'll see.
I've been knitting on socks, and also on the Bird in Hand mitt #2. As promised (I think I promised it), here's a pic of the first one, with the one I'm working on.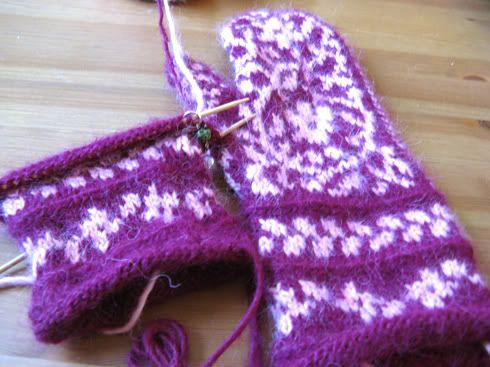 I can't wait till they're done! It's getting colder and I want brand new mittens!
I also want to write about Christmas knitting, but it'll wait till next post!