Today is election day in Quebec and I hope those of you who can vote did. There's a good thing about working weird hours: I left to go vote at 10:21 this morning and I was back at 10:30! Tonight is going to be a crazy night but it should be fun. I'll be in charge of "reactions" all evening. It shouldn't be too stressful. I hope.
I know I mentionned yarn in the subject line, so here you go. I still had one Effiloché gift certificate left and I had to spend it because it expires on Christmas day. So I went on Friday. I didn't buy anything terribly exciting, but I'm happy: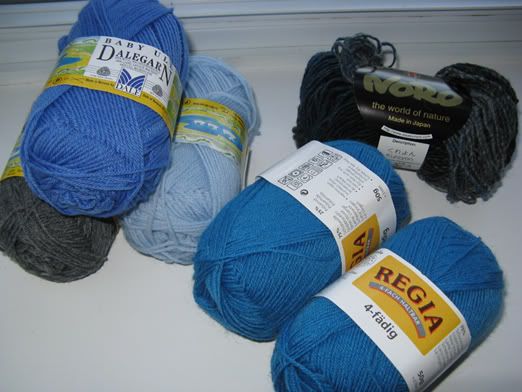 I got some Dale of Norway Baby Ull, that I want to use to make the
Postwar Mittens
. I'm still not 100% sure about the colours, but I'll give them a try and we'll see. I have to wait until I'm all done with Christmas knitting to start them (cause they are for sure going to be for me!).
Then, I got a skein of Noro Kureyon, colour 233. I want to use it to make the
Quickie Noro Silk Garden hat
for my stepdad.
I also bought the winter issue of IK and I still had some money left on the certificate, so I added two skeins of Regia sock yarn. I need to buy more solid coloured sock yarn so I can knit some of the beautiful patterns I have in my queue.
Re: Christmas knitting, I just finished Druid mitten #1 and I.LOVE.IT. I want to keep it for myself. I just hope it fits my mom's hands. She has big hands. They're a bit too big for me, so I'm hopeful (I had to add an extra repeat of the pattern on the hand to make sure it's going to be long enough. I might have to redo the thumb though). Pictures coming soon.
Now I just hope I'll be able to finish them AND stepdad's hat before Christmas. Wish me luck!