We are having our office Christmas party early this year. By early, I mean November 26. Our theme is "Hats", so everyone has to wear one. Of course, I decided to make mine so I knitted one last week-end: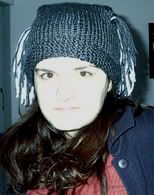 I may make a new one this weekend though, because I'm not entirely satisfied with this one. I added my company's logo on the front using duplicate stitch (first time doing that) and while it looks fine when I'm not wearing it, it gets all distorted when I put it on my head. I don't know why I didn,t think it would do that. Oh well. I may do another one, similar, but with Christmas-ier yarn.
***
I've also written an article on young knitters in my newspaper. I don't know if anyone who reads this understand French, but if you do, you can check it out at www.metropoint.com (choose the Montreal edition, then the Nov. 16 edition). It's in PDF format.
***
When I was looking for interviewees for that article, I posted about it at the Knitters' review forums, and I got an email from Véronik Avery, who just so happens to be one of my favourite designers (and she lives in Montreal). She told me about a new yarn store that just opened in the city. It's called
Mouliné Yarns
and it's fantastic. It sells Noro, Rowan, Debbie Bliss, Zara... I'm so happy! Finally a good yarn store in my city. The yarn is not cheap, but I don't care. I want to move in that store!
(if any Montrealer reads this, it's located on 2679, Notre-Dame West, close to the Lionel-Groulx metro station and the Marché Atwater).