I finished my boyfriend's
Fuzzy Feet
. Here they are pre-felting: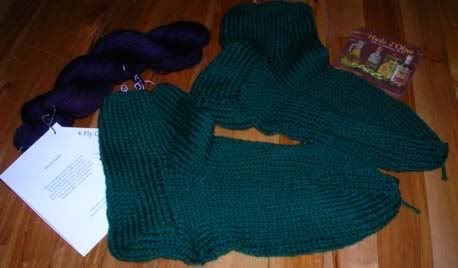 (You gotta excuse the new cashmere yarn in the picture, it seems to like being photographed). I used Galway worsted and it felted beautifully, as you can see here:
I finished
15 things
in 2006 and since I doubt I'll finish anything else in the next few days, I think it will be it. I think 2006 was a good year.
-I
worked my first cable
.
-I
made a sweater
.
-I participated in the
Knitting
Olympics
(though I did not finish my two pairs of socks in time).
Yeah, I'm pretty happy. And I already have goals for 2007. I want to:
-Try colour work. I'll probably go with something small. A hat or mittens. Not sure what yet but I want to try.
-Finish my blue cardigan. It turns out I did the shaping wrong on both fronts so I want to redo them. I really need to finish it.
-Learn to seam well.
-Pick the Kiri shawl back up and finish it.
And as usual, I have a billion projects in mind. There are several sweaters I want to make (I must finish the blue one first), so many that I wouldn't know which one to choose if I were to start one now.
I want to make a shawl with the cashmere coned yarn I bought a while ago. I really like
this pattern
from Knitpicks. Of course, I need to finish Kiri first.
Of course I also want to make the cashmere cloche with the yarn I bought yesterday.
And I think I want to make almost
every
sock
Cookie A
ever
designed
. I've already started by casting on for
Monkey
yesterday. Yeah, I did that instead of starting the cashmere cloche. What can I say, a Knit-along thread on
Craftster
inspired me. Plus, the pattern works beautifully with Austermann Step.